Newport, Rhode Island Fishing Charter Pricing
Payments can be made in the form of a check, cash, Visa, MasterCard, Discover, or American Express. A deposit of 50% is required to reserve your fishing charter, with the remaining balance due upon the completion of the trip. See Cancellation Policy below.
Although tipping is not mandatory, it is customary and appreciated to tip the mate 15 to 20%.
Fall Fishing
Blackfish (Tautog), full days are eight hours, 6am-2pm.

$150 per person open boat charter. Maximum 6 person. Or $900 for private charter, 6 person maximum.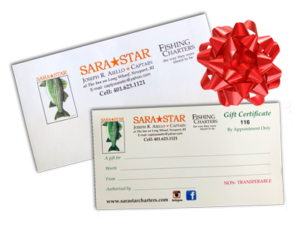 Gift Certificates
Knock out your holiday shopping with one phone call! 1-401-623-1121. Give the fishermen in your life exactly what they want…more time on the water! Our tasteful certificates are available in any denomination…and do not expire! 🙂
Sight-Seeing Tours in Newport, Rhode Island
For sailing regattas, race boat committees, photography excursions, music festivals, sea diving, etc… We can accommodate up to six people.  ($550 minimum reservation fee): 5-6 people: $110 per person. For more than 6 people contact Captain Joe for details.
Half Day Newport, Rhode Island Fishing Charters  | 8:00 a.m. – 12:00 p.m. or 1:00 p.m. – 5:00 p.m.
Expanded hours with a new evening fishing charter package
$110 per person, 5 person minimum
We can accommodate up to 6 passengers, minimum fee $550.
Corporate fishing charters with more than 6 people (where more than one boat is needed) – $125 per person
Full Day Newport, Rhode Island Fishing Charters | 7:00 a.m. – 1:00 p.m.
Inshore (6 person max) – $850
Offshore Tuna & Shark Fishing
Full Day Tuna/Shark Fishing, July-August, (6 person max) – $1450
MAKE YOUR RESERVATION TODAY
To make a reservation or to learn more about how Sara Star Fishing Charters in Newport, Rhode Island can meet the needs of your special occasion fishing adventure please contact Captain Joe Aiello 1-401-623-1121 .
Cancellation Policy
We are a very small business. When you book a charter, we set aside that time for YOU and aren't making money elsewhere. You may cancel up to two weeks before your charter for a full refund. If you cancel with less than two weeks but before they day of your charter, your 50% deposit will be applied.  If you do not show up on the day of your charter, you will be charged a minimum fee of $550.
**A NOTE ABOUT FUEL COSTS AND FISHING CHARTER PRICES
Sara Star Fishing Charter Service has not increased its prices for 2020. However, if fuel costs go above $4.00 per gallon, an extra ten percent (10%) will be applied to your total cost.