Welcome Aboard! Sara Star Charters is your exclusive connection to all the very best Fishing in Newport, Rhode Island.
Let's Fish Today!
The F/V Coral Rose is in the water and we're itching to fish with YOU! Call Captain Joe at 1-401-623-1121 for the fastest response – he'd love to set you up and nothing works faster than a conversation!
Don't have a full group? – let us help you arrange a "shared-charter" to get you on the water catching big-ones!
See our blackfishing episode of "On The Water!" then call Joe!
Fish With Two Pros!
Captain Joseph R. Aiello and Captain Coral Rose Aiello are a father daughter team. Joe has been fishing off the waters of New England (especially off the coast of Newport) for 43 years, both as a commercial fisherman and private charter captain. Captain Coral started as a mate at 14 and now has more than a decade of experience helping newcomers and veterans hook the big ones! They provide fishing trips of a lifetime, that families, friends, and business partners will never forget. Established in 1995, Sara Star Charters is the leader in the industry for the best fishing along Rhode Island's spectacular coastline.  2022 marks the 27th season in Sara Star Charters' history.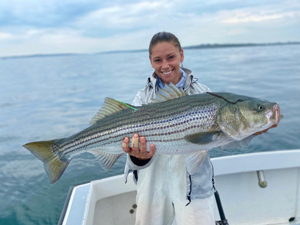 Captain Joe and Captain Coral believe the adventure is "not all about the fishing" as they not only strive to provide each group with the catch of the day, but also tailor the trips to meet the unique needs of each of their clients. From poles and bait, complimentary snacks and beverages, to fileting and icing your catch, all that is expected of the guests of Sara Star is to relax and do the reeling.
Now you can name the huge stripers you catch! For conservation purposes, we tag and release stripers over 35 inches. We've partnered with Grays Fish Tag Research, allowing you to tag and name your fish and receive updates about it! An exciting new way to extend your fun day on the water!
The boat is also always suited to each occasion or celebration with your taste of music from Pandora, or your own streaming service, played on our stereo.
Drone Video by Photo Flight Aerial Media – the best!!!
Not all Charter Services are Equal!
Choosing the right charter service will make all the difference between an unforgettable experience and a mediocre one. Sara Star Fishing Charters puts the personal preferences, needs, and safety of their guests first and foremost. Both Captain Coral and Captain Joe Aiello were born and bred into a life of fishing and know the ins and outs of the waters like no one else. They are is fully licensed as Coast Guard accredited captains in the 100 Ton Masters Class. They are also certified by the American Red Cross in First Aid and CPR.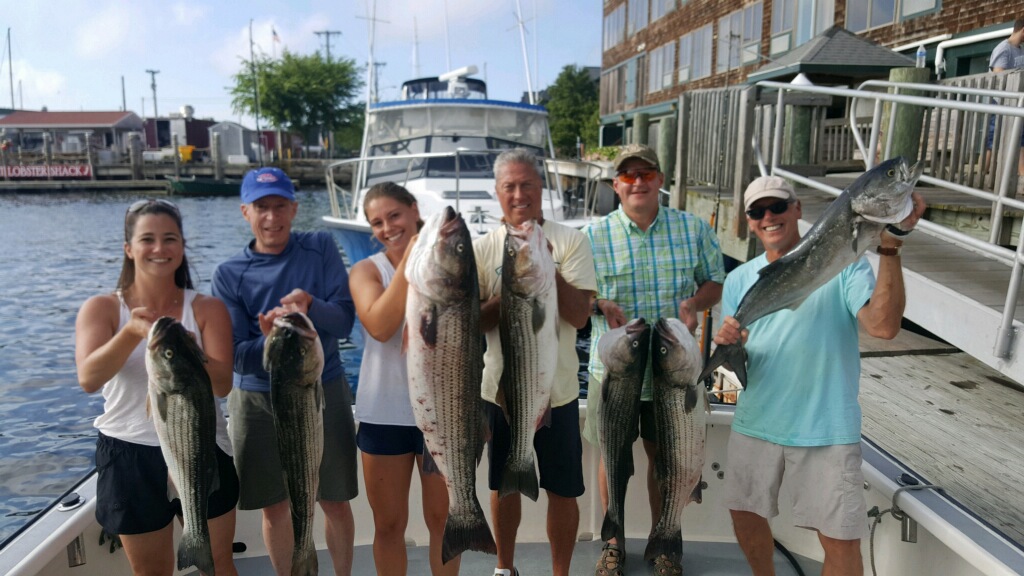 Sara Star Charters and Captain Joe have been featured in such publications as "Men's Journal" and "On The Water" magazines, as well as the 1998 Sperry Top Sider calendar, and 2000 Men's Journal  Magazine. RI Monthly Magazine has featured Sara Star Charters on three separate occasions in 2004, 2006, and most recently in February 2016 as one of the top Newport summer destinations. Captain Coral has been published in too many things to count.  Read more about her here. 
Call Captain Joe at 1-401-623-1121 to book your Newport charter fishing trip today!
Peek inside the Fishing Vessel Coral Rose…
These are just a few of our photos.  See more in our Photo Gallery page or on Instagram!