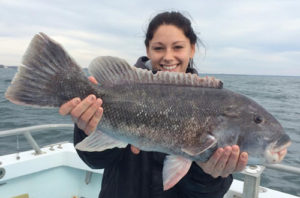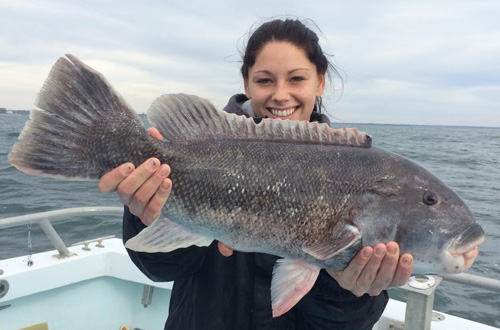 Big Blackfish Are Biting!
And when they bite – they dig down deep and fight.  Are you ready to win?  We hope so!  Call Captain Joe at 1-401-623-1121 for Fall Fishing Specials. Enjoy great fishing in Newport's breathtaking scenery…without the crowds!
Fall Fishing with HEAT!
Autumn is one of our favorite times aboard the Coral Rose.  What a treat to step into a WARM WHEELHOUSE on a chilly morning!  Arrive at the fishing grounds toasty and ready to hook your limit.  No 'hands-in-pockets' 'waiting-for-it-to-be-over' with Sara Star's fall fishing charters!  Forget frozen feet on our heated fishing boat!


Feisty Fish
Fishing for Blackfish (Tautog) is straight fun. There's lots of action with these feisty, great tasting fish.  As Captain Joe says, "The best thing about Tog fishing is they dig like crazy!"  It's fast paced – if you don't have a bite – your bait's gone!  Expect Tautog and Black Sea Bass this time of year and get ready for GREAT EATING. Both types of fish are full of flaky white meat and are DELICIOUS.
Special Rates and Shared Charters
We want to get on the water with you! Call Captain Joe to talk about special Fall Rates. If you don't have enough people to fill the boat – no problem! We can help pair you with other folks looking to go Fall Fishing! Call Captain Joe at 1-401-623-1121 and lets go fishing!
Gift Certificates
Knock out your holiday shopping with one phone call! Give the fishermen in your life exactly what they want…more time on the water! Our tasteful certificates always fit…and do not expire! 🙂